Start here
Share your knowledge and add a new relevant article to this wiki.
You are here for Disney's animated series chronicling the adventures of independent and fearless teen Anne Boonchuy after she is magically transported to a rural marshland full of frog people. There, Anne meets the excitable young frog Sprig Plantar; unpredictable pollywog Polly Plantar, the youngest member of the Plantar family; and overprotective and traditional grandfather Hop Pop. Stuck in this fantastical world of amphibians, Anne quickly bonds with the adventurous Sprig and discovers the true meaning of friendship.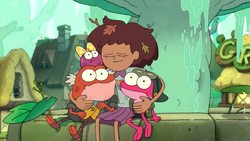 To make friends on this wiki and become an active member please use these tips.
Be nice to other users, don't disrespect peoples opinions, thoughts, or personality. If someone is being a pain please contact an admin. Don't say stuff back to make things worse.
Don't post blurry, compressed, or NSFW images. It helps keep the wiki clean.
NO NSFW Content AT ALL! Like above don't post NSFW images, don't post any content that is inappropriate, disrespectful, or racist.
Don't vandalize, it's an official rule on Fandom. Please don't vandalize pages.
Don't spam comment sections. Don't type useless comments in articles. It causes problems and takes up space.
Don't post fake articles that don't make sense.
Don't disrespect staff members, all decisions are final.
Don't posts spoilers until 3 days after premiere. Always put a warning above your message.
Please enjoy your stay at Amphibia Wiki!