This article is about the episode. You may be looking for the character.
"Mr. X" is the first segment of the sixth episode of the third season of Amphibia, and the eighty-fifth episode overall.
It premiered on November 6, 2021, alongside "Sprig's Birthday".[1]
Synopsis
Anne takes the Plantars to the movies, while the Boonchuys try to stop a government agent from finding them.[1]
Plot
The episode begins with 2 Federal Bureau of Investigation (FBI) agents Mr. X and his assistant, Jenny, are investigating the Plantar family and discover that they are definitely possibly aliens and someone is helping them. Then, they start to get hungry and Jenny found Thai Go online as the best location they can go to eat.
Meanwhile in Thai Go, Anne's parents are still euphoric after helping their daughter and her friends fight the Cloak-Bot and thinking that there is nobody after them now that they have destroyed Andrias' robot, Anne decides to take the Plantars to see a movie in a theater. Her parents are willing to help out again if anything comes up despite Anne telling them she and the Plantars will handle any future problems and they should stay out of the way before leaving.
Anne and the Plantars arrive at Super Cinema 40, and it's immediate sensory overload for the Plantars. Back at the restaurant, Mr. X is questioning Mrs. Boonchuy, asking if she's seen some creatures before showing her a surveillance picture of the Plantars.
Mrs. Boonchuy obviously recognizes them but tries to play dumb and asked who's looking for them anyway, before being told that the Federal Government is the one looking for them. Just then, Jenny comes in with a computer showing they've been spotted with the human string bean (Anne) and they immediately leave for the restaurant, but not before handing Mr. X his food order and they head of to the theater.
Anne's parents try and call her, but due to the loud noises of over twenty minutes of movie trailers, they miss the call so her parents now have the chance they were looking for again, to jump into action and go save their daughter and her friends.
A chase ensues through the traffic of Los Angeles as both parties head to the movie theater, but Mr. X gets there in time to intercept the group as they come out of their film. They sneak into another screening, and Mr. X follows them in and sits down behind them, asking if they're from the area or just visiting. Immediately giving themselves up, the group screams and runs through the theater in another chase sequence.
They try to leave the building, but Jenny is at the door scanning everyone who is leaving so the group is now cornered in the multiplex. The group makes their way into a storage closet where old movie posters and cardboard displays act as decoys and are able to get away from Mr. X (who discovers the truth when Hop Pop's disguise falls apart) before taking refuge in a nearby restroom stall.
Mr. X, however, has called in backup which FBI agents surround the building and make their way into the theater during that night. As the FBI agents planning to attack and make their way out, the power goes out.
The lights kick back on, and Mr. X is embarrassed and laughed at by the other FBI agents to discover 2 pet store frogs and a tadpole sitting in the restroom stall. Turns out, Anne's parents, using a particular set of skills (or lack there of) were able to help out.
But after their explanation, they couldn't figure out how her parents knew where they were before they admitted to putting a tracking device with tapes on Hop Pop's chest. That shocked Anne very much and Polly ripped the tracker off Hop Pop's chest causing him to scream in pain.
Cast
Additional voices
Mentioned
Pictured
Other characters
Transcript
For a full transcript of "Mr. X", click here.
Title in Other Languages
Gallery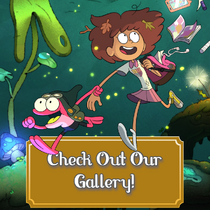 Click here to view the gallery.
Trivia
This episode marks Mr. X's formal debut. He was mentioned at the end of the previous episode.
This is the first appearance of Anne's grandmother. According to Lakkhana Narksiri, she is the mother of Anne's mom.[2]
This episode has the shortest title out of all the episodes in the series thus far.
Revelations and significant events
Mr. X discovers the true identity of the Plantars as frog people.
It's revealed that Mr. and Mrs. Boonchuy put a tracking device on Hop Pop's chest while he was sleeping.
According to Mrs. Boonchuy, Mr. Boonchuy drives like an old man.
Continuity
This episode takes place immediately after "Anne-sterminator".

The events of this episode are also mentioned.

A poster of Suspicion Island 2 can be seen at the cinema, as well as cardboards of the characters Hunter and Constance.
Cuts of the characters from Love Choice can be seen.
The search engine Doogle (Parody of Google) is used again.
Allusions
Video
References