"
That does it! I don't want to do any of this boring, frilly garbage. I wanna travel the world and have my own adventures.
"
Ivy Hibiscus Matcha Sundew is a supporting character of Amphibia. She is a friend, sparring partner, and subsequently girlfriend of Sprig Plantar, and the daughter of Felicia Sundew.
Appearance
Body
Ivy bears an innocent appearance and is significantly smaller and more portly than Sprig. Her skin is yellow with a pale patch under her mouth and dark spots on her cheeks and her two visible tufts of hair are orange.
In "The Shut-In!", Ivy is seen to have a large mass of wild hair that embarrasses her, though Sprig is very fond of it.
By the time of the epilogue, Ivy has grown noticably taller and slimmer. She also no longer keeps her hair hidden under a hat, giving her a hairstyle roughly reminiscent of Anne's.
Clothing
She wears a turquoise hat with ragged patches, frayed overalls, and light green farming clothes.
After King Andrias and the Frobots took over, Ivy now dons a giant, gray breastplate over her outfit much similar to Anne when she donned a new breastplate in "Bessie & MicroAngelo" The armor has 4 dents and a scar much similar to Andrias's in term of placement and similarity appearance wise. The breastplate also has a lighter gray line where it ends and resembles a torn dress at the bottom. To accompany this new war look Ivy's dress has 2 rips by the leg and partially torn sleeves. Her hat has also gained a hole on the right side of her head exposing a glint of her hair.
In the epilogue, Ivy still wears her t-shirt, but now sports a pair of blue jeans with a rope belt, a teal cloak with a red shell tie, and she no longer wears her hat.
Personality
As in Locust Pocus, she seems to be a loud energetic character similar to Sprig, which may be the cause of his feelings. In "Dating Season", Ivy likes to "ambush" Sprig a lot and is still very loud and energetic. She is stated to be his sparring partner and seems to be very amiable towards new people she meets. She can also be forceful, as seen when she asked Anne if she likes being randomly attacked, and responded with "too bad" when told no.
Background
Ivy Sundew is the daughter of Felicia Sundew. Little is known about her father, although he was a traveler according to her mother. Ivy is a close friend of Sprig Plantar, and likes to ambush him.
In "Dating Season", when Sprig and Anne were exploring the woods, Ivy ambush Sprig and then was introduced to Anne who was from another world, and she then took off promising to do another ambush. Later, Hop Pop and Felicia arranged Ivy and Sprig to a date as part of the Firefly festival, as Hop Pop and Felicia planned to have their families emerged and get what they agree. That night, due to having been forced by her mother, Ivy and Sprig danced as part of the Ritual, however the two didn't want to go with it so the two decided to abandon the ritual and go watch the Fireflies. Ivy and Sprig removed the dresses they were forced to wear and started to have some fun and look at the Fireflies.
While they were watching, Felicia, Anne, Hop Pop, and Polly were captured by Love Doves, Sprig and Ivy rescue them and defeated the Love Doves. They then their families they don't to get married and never will, Hop Pop agree, but Felicia took Ivy home, so she could "apologize to her safety." Ivy and Sprig then waved to each other goodbye.
In "Toad Tax", Ivy and Felicia have all of their belongings stolen by Bog, Fens, and Mire, due to believing they did not pay their taxes to Toad Tower. However, Anne is able to return a mug to Felicia, making the Sundews feeling grateful towards Anne. Later, Ivy and Felicia, along with everyone in Wartwood gather around at the Plantar Farm, witnessing Anne standing up to the toads after having enough of their cruelty. Ivy and the citizens are amazed by Anne's bravery and selflessness, which motivates them to stand up to the toads and protect Anne when the toads injure her. After Mayor Toadstool is exposed for hoarding the town's taxes, everyone gets their belongings back and Ivy, along with everyone in Wartwood cheer for Anne, finally respecting her while naming her the official protector of Wartwood.
In "Civil Wart" Ivy, is seen watching the movie Love Choice, then huge fight broke out with everyone, those who choose Hunter and those who choose Alistair. It is unclear which side Ivy picked.
In "Anne of the Year", it was revealed that she has mutual feelings for Sprig as he does for her, allowing the two to start a romantic relationship.
In "The Shut-In!" Ivy is playing Bugball with Sprig before they lose the ball and are attacked by the Seamstress. Ivy is able to connect with The Seamstress ue to the fact they both aren't comfortable with certain aspects about themselves until Ivy reveals this ploy to be a Hoax, so she and Sprig are given an opportunity to escape as well as kill the Seamstress. During the Battle Ivy is bitten, leaving the Plantars to questions the effect of this until Ivy arrives at their doorstep with a mask. However, this is merely a prank as Sprig and Ivy share a laugh after scaring The Plantars before ivy runs out to return home.
In "Return to Wartwood", Ivy accepts the fact that she didn't get a shell from Newtopia and in return, Sprig would go on a date with her.
In "Ivy on the Run", Ivy becomes upset and fed up with her mother's rules and tea lessons and takes Sprig in a plan to leave Wartwood to explore beyond the valley. The plan is foiled when Felicia gets to them. Ivy expresses her feelings to her mom and that she is sick of doing what her mom asks, causing Felicia to challenge her to Martial Arts. Ivy gets frustrated as she is losing to her mom by two points, so her mom tests her tea skills, which helps Ivy defeat her. She then finds out Felicia, like her, was an explorer and that she learned all her skills on tea travels, and that her mom is going to take her on her next trip. She appears embarrassed when Felicia mentions Ivy's father.
In "True Colors," Ivy is seen along with Wally, Sadie Croaker, Archie, Mayor Toadstool, Toadie and Rosemary, Lavender, and Ginger looking on as multiple Frobots are Flying up to the Castle.
In "Turning Point" Ivy is amongst the crowd who welcome Sasha and Grime and question what is going on, more specifically interested in knowing where Sprig is. Later in the Episode, she is seen fighting alongside the townspeople with her mother using her fighting skills taught by her mother and reconciling with Sasha after finding out the truth. 
After the Plantars return from Earth, Ivy spends a lot of time with Sprig in "Sprivy". So much so, that it drives everyone else crazy. However, once they nearly fail a mission due to their separation anxiety, they agree not to let their relationship get in the way next time. However, as the episode ends, Ivy realises that Wigbert, the wealthy amphibian that has agreed to give the Resistance much needed supplies, looks like Wally.
Nine months after the defeat of The Core and Anne leaving Amphibia forever, Ivy appears in "The Hardest Thing" attending the ceremony honoring Anne, but not before tackling Sprig from behind. She notifies Sprig that Grime found a continent that had been untouched by Frog, Newt or Toad, asking if Sprig is up to exploring it. Sprig accepts, and the two set off for yet another adventure. 
Relationships
Ivy had been friends with Sprig for a long time. The two are so close that they are comfortable with rough housing with one another and hanging out casually. While not confirmed until "Anne of the Year", Ivy has apparently had a crush on Sprig for a long time. This was slightly hinted at in "Croak & Punishment" where she opted to have a Blue Moon Shell, which was initially meant for her as a birthday present, stay with Sprig so that she will know when she is close to his house. It is confirmed that they are very much in love with one another and that they can't stand being apart from one another.
Anne First met Ivy in Dating Season and was initially a little put off by Ivy wanting to ambush her. Although this feeling subsides when Anne joins Hop Pop and Felicia in getting her and Sprig to court. By the end of the episode, she and Sprig talk about how they are only friends to which Anne joins in to apologize. For the next season, they do not interact until Anne once again tries to force Sprig to confess his feelings at the party in Anne of the Year showing she is very supportive of their relationship. The 2 do not interact until Return to Wartwood when Anne states she'll help the Plantars but only due for Sprivy as she "won't let that ship sink". When Sprig and Ivy make plans to go on a date, Anne is overjoyed to the point Polly had to pull her away. In The Shut-In!, Anne has many questions about Sprig's stories one of them being about Ivy being bitten. As ivy Scares the Plantars, Anne has about the same reaction as the Plantars being impressed. In "Ivy on the Run" the 2 do not interact much but Anne is shown to cheer Ivy on when she defeats Felicia. Until Sprivy, the 2 do not interact often and there is minimal interaction between this episode as well. Due to the the town being annoyed by Sprivy, it is unclear if Anne was too.
Sightings
Behind the scenes
Voice
Ivy is voiced by Katie Crown.
Debut
Ivy debuted in the episode, "Dating Season", but prior to this episode, she was featured in the game Locust Pocus.
Foreign voice actors
Language version
Actors
Notes
Spanish (Latin America)
Camila Díaz Fraga
Portugese (Brazil)
Agatha Paulita
Czech
René Slováčková
German
Kerstin Julia Dietrich
Danish
Thea Iven Ulstrup (1st Voice)
Natascha Jessen (2nd Voice)
Spanish (Castilian)
Natalia García
She is also the voice actress for Marcy in Spain.
Hungarian
Csifó Dorina (1st Voice)
Hermann Lilla (2nd Voice)

Indonesian

Lady Carmelita Novita
She is also the voice actress for Sasha in Indonesian.
Italian
Lucrezia Marricchi
Japanese
Chihiro Uno (うの ちひろ)
Korean
Jang Mi (장미)
She is also the voice actress for Polly and Marcy in Korean.

Malay

Shasha Masella
She is also the voice actress for Sasha in Malay.
Dutch
Relinde De Graaff
Norwegian
Gulla Martine Lia Nordmoen
Polish
Aleksandra Kowalicka
Magda Kusa (The Hardest Thing)
Portuguese
Solange Santos
Romanian
Adina Lucaciu
Swedish
Mikaela Tidermark Nelson
Thai
Noppawan Haemabutra (นพวรรณ เหมะบุตร)
She is also the voice actress for Sasha and Maddie in Thai.

Turkish

Burçin Artut (1st Voice)
Yasemin Ertorun (2nd Voice)
Gallery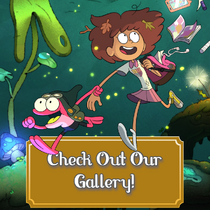 Click here to view the gallery.
Trivia
Despite stating that he didn't have any friends before he met Anne in "Best Fronds", it's revealed in "Dating Season" that Sprig has known Ivy for a longer time and that they are sparing partners/friends, meaning that Ivy was a friend before he and Anne met.
Her full name, Ivy Hibiscus Matcha Sundew, is revealed by Felicia in the episode "Ivy on the Run".
References