"Combat Camp" is the second segment of the eighteenth episode of the first season of Amphibia, and the thirty sixth episode overall.
It premiered on July 16, 2019 alongside "The Big Bugball Game".[2]
Synopsis
Anne, Sprig and Polly are forced to stay at a daycare center that turns out to be more than it seems.
Plot
While Hop Pop heads to Crop-Con, Anne, Sprig and Polly are forced to stay at a daycare center with Tritonio Espada, the new owner. But when Hop Pop leaves, Tritonio turns out to be an adventurer-type instructor who turned the daycare into a combat camp loaded with various weapons of different kinds such as swords and spears. While Tritonio praises Sprig and Polly, he pushes Anne to train harder.
Anne feels that Tritonio's picking on her, similar to her experience with her teachers back home and asks him why; he explains to her that he's tough on her because he believes in her potential. He gives Anne his family sword and trains her to fight. On the last day of their stay, Tritonio has them learn an expertise plan that involves stealing a precious gem from a moving train. Sprig and Polly question it as they figure out it's an actual crime rather than what Tritonio called an "act" set up by him, but Anne trusts Tritonio and says they should do it.
On the train, they manage to get pass the guards and get the Tiger-Moth's Eye, a priceless ruby. Tritonio takes it and is revealed to be a train-robber who only used the kids to get it, as he had done to previous children before them. They escape the train carriage by using Polly's blue boomshroom explosives and Anne fights Tritonio. She defeats him and the guards of the train take him away once it stops. Back at the camp, a super injured Anne, Sprig and Polly are exhausted from their wild adventure. While Anne feels betrayed by Tritonio, she'll still give teachers a chance as she states she'll do back at home now. Hop Pop then returns to pick up his kids, also super injured. However, knowing that each other's day was terrible, the Plantar kids lie about not robbing the train while Hop Pop lies about not being attacked by locusts (which he did at the Crop-Con), and says that they're glad that they "didn't" get into two wild adventures (which they did).
Cast
Additional voices
Title in other languages
| Language | Title | Translation | Notes |
| --- | --- | --- | --- |
| Latin American Spanish | Campo de Combate | Combat Camp | |
| German | Kinder-Kampf-Kurs | Kids Fight Course | |
| European Spanish | Campamento de Combate | Combat Camp | |
| French | Maître Tritonio | Master Tritonio | |
| Indonesian | Kamp Tempur | Combat Camp | |
| Italian | Campo Di Combattimento | Combat Camp | |
| Japanese | れっしゃごうとう | Robbery | |
| Korean | 특별한 수업 | A Special Class | |
| Dutch | Gevechtstraining | Combat Training | |
| European Portuguese | Campo de Combate | Combat Camp | |
| Polish | Obóz przetrwania | Survival camp | |
| Vietnamese | Trại Huấn Luyện Chiến Đấu | Combat Camp | |
Transcript
For a full transcript of "Combat Camp", click here.
Gallery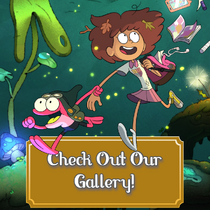 Click here to view the gallery.
Trivia
Viewership: This episode was watched by 0.37 viewers on its premiere.[1]
This is the fourth time Anne has a flashback to a moment on Earth.
Running gag: Tritonio yells at Anne throughout the episode.
Fourth wall: Hop Pop mentions that he and the Plantars have two wacky adventures a week as there are two 11-minute episodes four days a week.
The train car containing the Tiger Moth's Eye has a plaque that says "Newtopian Armory" on its side.
Errors
During the flashback, Anne is seen using her normal model (messy) instead of her on Earth model.
Allusions
References