Amphibia is an American animated series, created by Matt Braly. The series premiered on June 14, 2019 on DisneyNOW and YouTube; June 17, 2019 on Disney Channel; and August 5, 2019 on Disney XD. The first season became available on the Disney+ streaming service when it launched on November 12, 2019.
On May 15, 2019, ahead of the series premiere, Disney Channel renewed the series for a second season, which premiered on July 11, 2020.[2]
On June 23, 2020, the series was renewed for a third season, ahead of the second season premiere.[3] On Reddit, Matt stated that Amphibia would have three acts, which means that the third season will be the final season of the show.[4]
The series ended on May 14, 2022, with a three-part conclusion. The series left Disney Channel on June 19, 2022 with a final rerun of "Hop 'Til You Drop"/"Turning Point."[5]
Premise
Amphibia chronicles the adventures of 13-year-old Anne Boonchuy, who is magically transported to the fantastical world of Amphibia, a rural marshland full of frog-people. There she meets an excitable young frog named Sprig Plantar, his unpredictable sister Polly and overprotective grandpa Hop Pop. With Sprig's help, Anne will transform into a hero and discover the first true friendship of her life.
Production information
On February 23, 2018, Disney Channel greenlit the series, alongside The Owl House.[6] According to Matt Braly on a tweet, the development for Amphibia had taken "almost two years" before it was picked up in February 2018.[7] On March 27, 2019, it was announced that Brenda Song would star in the series as the voice of Anne Boonchuy.[8] In April 2019, Justin Felbinger was announced as the voice of Sprig Plantar. On May 15, 2019, the series was renewed for a second season ahead of its premiere, along with the announcement of Bill Farmer and Amanda Leighton being casting as the voices of Hop Pop Plantar and Polly Plantar respectively.[2]
The series was renewed for a third season on June 23, 2020, ahead of the second season premiere.[3] The season was later confirmed by many crew members as the last for the series. On May 3, 2022, Matt Braly announced on Twitter that the production of the third season and the series overall had ended, with the final episode being delivered to the network.[9]
Cast
Main Cast
Recurring/Guest-Starring
Crew
Oversea animation studios
Casting
Dialogue director
Episodes
The episodes are usually split into 22 x 11-minute segments. The first season finale "Reunion" is the first full-length episode of the series. Full-length episodes of the series are split into 21x7 parts.
Rough Draft Korea, Sunmin Image Pictures, and Saerom Animation each provides animation for the episodes, and it takes about nine months for each episode to be complete.[10]
Main article: List of Amphibia episodes
Series
Season
Episodes
Production Codes
Start date
End Date
Avg. viewers

(millions) (U.S. only)

Full
Segments
1
20
39
101-120
June 17, 2019
July 18, 2019
0.41
2
20
36
201-220
July 11, 2020
May 22, 2021
0.36
3
18
31
301-319
October 2, 2021
May 14, 2022
0.32
Shorts
Short Series
Shorts
Production Codes
Start Date
End Date
Teen Girl in a Frog World
5
101-105
September 3, 2019
October 1, 2019
Wild Amphibia
4
101-104
November 13, 2019
December 4, 2019
Chibi Tiny Tales
6
TBA
June 7, 2020
July 12, 2020
International release
Country
Language
Channel
Premiere date
Title
Source
Canada
English
Disney Channel
June 22, 2019
Amphibia
French
United Kingdom
English
July 6, 2019
Malta
Japan
Japanese
August 2, 2019 (Sneak preview)
September 1, 2019 (Official)
ふしぎの国 アンフィビア
[11]
Spanish (Latin America)
Disney XD
August 3, 2019 (Sneak preview)
August 5, 2019 (Official)
Amphibia
[12]
Disney Channel
India
Hindi
August 11, 2019
[13]
Tamil
Telugu
Australia
English
August 18, 2019
New Zealand
Netherlands
Dutch
September 2, 2019
[14]
Hong Kong
Cantonese Chinese
September 8, 2019

蛙!小安的奇幻之旅

[15]
Taiwan
Mandarin Chinese

蛙!小安的奇幻之旅

[16]
Southeast Asia
English
September 9, 2019
Amphibia
[17]
Indonesian
Malay
Thai
แอมฟิเบีย
Vietnamese
(subtitles)
Thế Giới Lưỡng Cư
South Korea
Korean
September 18, 2019
신비한 개구리 나라 앰피비아
[18]
Italy
Italian
October 5, 2019
Anfibia
Russia
Russian
October 14, 2019
Амфибия
France
French
October 21, 2019
Amphibia
[19]
Switzerland
Belgium
[20]
Middle East and North Africa
English
Arabic
مغامرات ضفدعية
Greece
Greek
Αμφίβια
Bulgaria
Bulgarian
December 9, 2019
Амфибия
Romanian
Romania
Amfibienii
Spain
Spanish
Disney XD
January 11, 2020
Anfibilandia
[21]
Disney Channel
April 6, 2020
[22]
Germany
German
Disney Channel
February 17, 2020
Amphibia
[23]
Czechia
Czech
March 2, 2020
Anna mezi obojživelníky
[24]
Slovakia
Hungary
Hungarian
Békaland
Israel
Hebrew
March 8, 2020
אמפיביה
Scandinavia
English
Disney XD
March 23, 2020
Amphibia
Danish
Norwegian
Swedish
Finnish
(subtitles)
Russian
Poland
Polish
Disney XD
Płazowyż
[25]
Ukraine
Ukrainian
PlusPlus
August 20, 2020
Амфібія
Portugal
European Portuguese
Disney Channel
September 14, 2020
Anfibilândia
Awards and nominations
Gallery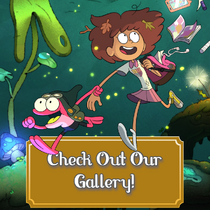 Click here to view the gallery.
Videos
Trivia
References in other media
In the Big City Greens episode "Present Tense," a Sprig plushie can be seen in a claw machine in an arcade along some other Disney Channel figures from other Disney Animation Shows. (like King from The Owl House, Wander from Wander over Yonder, Perry the Platypus from Phineas and Ferb, Rufus from Kim Possible, Bill Cipher from Gravity Falls, and Star Butterfly from Star vs. the Forces of Evil.)

This episode from Big City Greens premiered on September 12, 2020, along with the Amphibia episodes "Little Frogtown" and "Hopping Mall."

In The Ghost and Molly McGee's Chibi Tiny Tales story "Scratch Haunts," Scratch is on the loose haunting various Disney Channel characters. When he tries to scare Anne and Sprig, he fails. He knocks on the door of the Plantar family door and is greeted by Anne and Sprig. He tries to scare them, but they are scared by a giant mantis that is standing behind Scratch, which results in them shutting the door. Scratch then cares the mantis instead.
See also
External links
References