"All In"[7][8] is the seventeenth episode of the third season of Amphibia, the one hundred and fifth episode overall, and the penultimate episode of the series.
It premiered on May 7, 2022.[1][2]
Synopsis
Anne and her friends fight for their lives as the fate of both worlds hangs in the balance.[2]
Plot
In a flashback to the day before Anne's 13th birthday, Anne, Sasha and Marcy throw a K-pop dance party/prank at Saint James Middle School in Los Angeles, California, and are then called to the principal office for their shenanigans. Principal Murphy lets Sasha and Marcy off the hook due to utilizing their skills and strengths, only being told to use them for more 'constructive' purposes. But, recognizing that Anne needs the most help out of the trio as she could tell Sasha and Marcy roped her into pulling this stunt, assigns her an essay on what she truly wants in life and what she's willing to do to get it to force her to think about these things instead of just going along with the flow or using the easy way in everything. As Anne leaves the office Principal Murphy knows her birthday is tomorrow so she wishes Anne a happy early birthday.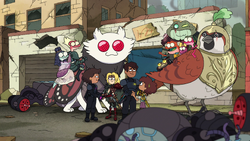 In the present, Anne and the gang are restrained inside the castle's prison as King Andrias announces his presence to the humans of Earth via broadcast telling them that his invasion fleet will strip their world of all of its resources to be used to conquer "more impressive worlds," wiping out humanity in the process. The U.S. military quickly comes in by sending in main battle tanks commended by a male general and tries to fight back but with little success to even scratch the two mind-controlled Herons nor the Newtopia Castle as the latter had energy shielding. The general quickly calls Mr. X about the situation after the tanks' failed attempt to cause significant damage. While Anne tries to break free using her powers, Sprig and Hop Pop advise against it because of how much they drain her, so Polly has Frobo use his laser eyes to cut everyone's restraints and make a hole in the floor. While they were free, they fall down and land in a pool. When the gang sees that Andrias' Herons, a horrified Hop Pop recognizes them as they were the same Herons that killed Sprig and Polly's parents, as he had left a cross mark on one of them on the day, they attacked Wartwood when he returned. As the team engage the Frobots in battle while saving some civilians, they encounter Mr. X, Jenny, and Anne's parents wearing advanced body armor and armed with plasma base firearms. As they left the city, Mr. X. and Anne's parents revealed that they managed to convince the US government about the upcoming invasion by Andrias and gave the US military weeks to prepare to fight against this invasion force. Furthermore, both Boonchuys received military training on how to use their hi-tech armor with plasma firearms.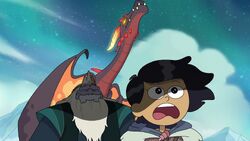 Mr. X states that they needed a place to plan for counterattack and they drive off to SJMS to regroup. The Boonchuys brought some food from Thai Go, claiming they can't save the world on an empty stomach. Grime tastes it but he cannot handle the spiciness. Meanwhile at Anne's locker, Sasha asks how they are going to stop the invasion if Darcy knows their every move, but Anne assures her that they've come a long way since coming to Amphibia and Darcy only knows the "old them". Meanwhile, inside the Core's hive mind, Marcy, with pieces of her memory missing, is solving puzzles when a door opens, and is greeted by King Aldrich who tells her that she is the first human to join the Core and creates a fantasy world for her to enjoy.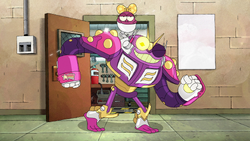 Back at SJMS, General Yunan gleefully takes to a plasma handgun given to her by X. Polly uses the robotics club's resources to create Frobo a new body similar to his original one and gave him a paint job while she was at it. Sprig is looking at the blank pace of red paper the gang found in the hidden chamber feeling that it is important somehow. After seeing the news, Sprig brushed off the possibility that he and Anne might not be together anymore when this is all over, or that things will at the very least be different, despite Hop Pop's claims. Anne and Sasha tell everyone about the battle strategy; Anne, her parents, the Plantars, and Mr. X will attack the army head-on while Sasha, Grime, Yunan and Lady Olivia will infiltrate the Castle and shut down the force field generator.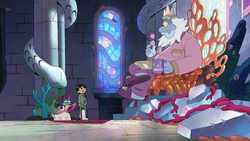 During Darcy's onslaught, while they are taking great pleasure in all the destruction, Andrias remembers the day when he first met Marcy; she asks him if she can call him "Drias" but changes her mind when she sees it is a "personal" matter. Andrias took an immediate liking to the girl after she showed some of her quirkiness, but after she left the throne room with Lady Olivia, the Core contacted him via his crown and reminded him of their long-time goal. The Core initially just wanted to kill Marcy to avoid the possibility of her fulfilling the olm prophecy, but Andrias convinced it to lure and trick her and her friends into giving away their powers instead. Back in the present, Darcy and Andrias see that Anne and the others have escaped.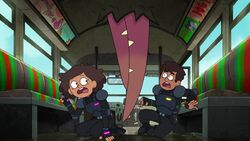 The team manages to destroy a number of Frobots but things go downhill when the herons show up. After Anne, Domino 2 and Frobo rescue the Plantars from the herons, Hop Pop reaffirms their fear of why they hesitated before shouting the herons who ruined their home, but Anne tells them to snap out of it, as she can't do this without them, and states that she knows she had seen the whole family overcome so much. Anne's parents are about to get attacked by a heron, which mimics the exact scenario that orphaned Sprig and Polly. Luckily, when they see Mr. and Mrs. Boonchuy in trouble, they pull themselves out of their funk and fight back. After the collars come off the herons, the Plantars use their family dance to tame them and turn them against Andrias and his forces. Darcy is angered by what is happening and orders Andrias to bring them Anne and warns him if he fails he can forget joining his father and the rest of them in the Core. Andrias heeds Darcy's warning and tells one of the Frobots to "ready the Dyoplosaurus."
Sasha and her group fly on Joe Sparrow to reach the castle. Unfortunately, a Cloak-Bot trio finds them, but luckily, Yunan and Olivia hold them off while Sasha and Grime head the shield generator room. In Marcy's fantasy world, after Aldrich makes a false Anne and Sasha appear, their clothing suddenly changes to match a fantasy setting this causes Marcy to dive deeper into the dream state so she can be assimilated by the Core.
Sasha and Grime head to the shield generator room, but are halted by Darcy, who taunts Sasha and readies a laser scythe to fight them. Outside the castle, the Boonchuys, Plantars, and FBI continue to fight off the Frobot army, and Andrias arrives on the scene from the equipped with the Dyoplosaurus, an enormous mech-suit, and lands on the U.S. Bank Tower. Andrias commends the humans for fighting but claims that his forces could wipe them out easily. Despite this, he promises to stop the invasion if Anne can defeat him in combat, and threatens to destroy the city if she doesn't, giving an example by destroying the Hollywood Sign behind a man posing.
The Plantars tell Anne to not answer Andrias' demand for a rematch. Anne admits that she didn't really love herself before arriving in Amphibia, and that she just went along with what was easy instead of caring about right or wrong but now knows what she wants to do with her life, claiming that it was the time she spent with her surrogate frog family that made her realize that. The Plantars hug Anne in support, and she flies on Domino 2 to confront Andrias. With the whole world watching, she arrives at the tower where Andrias awaits. Andrias believes he finally understands why the stones chose Anne as their champion claiming that despite everything, he sees her as a 'true' warrior underneath while Anne remembers how he deceived her. Andrias laughs at the truth in Anne's words and claims that he knows about the time limit of her powers, questioning if she can defeat before they run out. Anne retorts claiming that there's only one way to find out. The city watches as Anne stares down Andria. Anne activates hers power and charges, but Andrias quickly has Anne on the defensive with his mech's strength and weapons.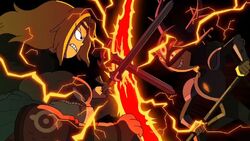 Inside the castle, Sasha and Grime battle against Darcy, who continues to push them with her scythe and mechanical tentacles. Grime attempts to distract Darcy by taking her own himself while Sasha goes for the shield generator. Sasha almost succeeds, but Darcy incapacitates her with her laser dagger and pursues with her scythe. As Darcy prepares to take the final blow on Sasha, Grime ends up pushing Sasha out of the way of Darcy's Scythe just in time, losing his entire left arm in the process, to which a horrified Sasha quickly tends to his wound. Grime admits that before he met Sasha, he was just a 'bully in a tower', but she inspired him to be something more than who he used to be. Sasha, enraged that Darcy hurt her friend, attacks more viciously.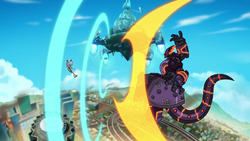 Outside Anne and Andrias continue to fight over Los Angeles. Andrias claims to Anne that everything she loves will eventually crumble away while Anne rebuffs him by saying that she pities him of how he spent 1,000 years of burying his feelings and hating himself; this angers Andrias and he attacks with all his fury. Anne becomes exhausted and powers down. Seeing that Anne needs a boost, Mr. X, at the request of Anne's parents, broadcasts one of her favorite songs, while her family, both biological and found family, cheer her on. With the encouragement of the city, the people in her life, and "sweet life-giving K-pop," Anne gets her second wind and power ups once again. She attacks Andrias with faster, stronger, and harder strikes.
Sasha, enraged, continues to attack Darcy and even manages to cut her cheek, but she falls prey to Darcy's illusions and with her guard down takes a massive cut to her back.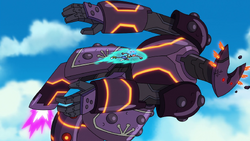 Meanwhile, in Marcy's fantasy world, after false Anne and Sasha claim that 'they too, like whatever Marcy likes', and realizing that the real Anne and Sasha will not necessarily like everything she takes interest in, Marcy finally sees though the Core's illusions and faces reality, even though the truth is painful sometimes; she claims only a coward would choose this simulated illusion. As Aldrich leaves her to fade into nothing, Marcy says she believes in Anne and Sasha. Later, Anne has Andrias on the verge of defeat, but her powers finally run out and he is left exhausted. Mr. X spots the letter Sprig is holding on to and uses his spy glasses find the hidden message on it and tells them that it's written with special ink that's only visible to red lens. However, Sprig takes his glasses and learns that it is from Leif. He flies a Heron the tower and holds off Andrias with a boomshroom to protect Anne. As Andrias prepares to kill them both, Sprigs holds the letter and tell that its Leif's stopping Andrias' assault an emotional freeze. He reads to the letter to him; revealing that despite running away and starting a new life in Wartwood, she never stopped loving him and hoped that he would let go of all of his anger, begging him to not to close himself off from others because of their broken friendship. Andrias is brought to tears now knowing that Leif still considered him as a friend despite everything that she had to do. However, he comes anguished. He notes that over the past 1,000 years, he had crossed too many lines by now to possibly receive redemption or forgiveness and loses his will to fight. In the castle, Darcy prepares to finish Sasha off, but becomes alerted and disgusted by Andrias' weakness. She claims to Sasha, as fellow control freak, she will appreciate her next move, and forces her control over Andrias through his crown, demanding him to fight and while claiming they are all he'll ever need or have.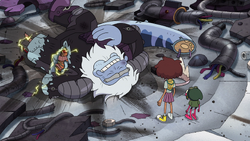 Sasha, inspired by what Anne told her earlier how 'it isn't about who they were before, but who they are now' that matters, finally puts her former self behind her as she attacks Darcy with the last of her strength. When Sasha attacks Darcy with her sword, Darcy laughs as they believed she missed, but it turns out she hit exactly what she meant to hit; the cord connected to Darcy's helmet, which causes it to break off. Darcy screams in shock, calling Sasha a fool and saying if she knows what she has done before screaming once more in anguish as all the robotic eyes inside the chamber shatter and orange energy seeps out of the human body. At last, Marcy is freed and loses consciousness. Now that Andrias is free from the Core's influence, he lets Anne deliver the finishing blow and accepts defeat. The people of Los Angeles, her parents, her allies, the Plantars, Principal Murphy and even Maggie cheer over Anne's victory. As Andrias lies defeated, he reveals that he had stayed alive for a whole millennium due to cybernetic enhancements inside his body that are now heavily damaged because of Anne's final attack.
After the shield is down, Anne and Sasha rush over to Marcy and hug her, while saying that they love and forgive her, pleading for her to wake up as their tears fall down. Marcy wakes up and apologizes profusely for her actions and getting them sent to Amphibia to begin with as she did not want to lose her friends. Anne tells her it's okay and all is forgiven; stating that whether they like it or not, things change, but Anne assures her friends that neither time nor distance will destroy their bond, and everyone present engages in a group hug. While nobody is looking, Darcy's helmet sprouts out 6 mechanical legs and sneaks away.
As Mr. X, the Boonchuys, the two herons and the US government are cleaning up LA and gathering all the robot remains; Anne then tells her parents that she, Sasha and Marcy are heading back to Amphibia to bring their friends home, take an unconscious Andrias prisoner and to see if everyone back there is okay. Both Sasha and Marcy ask the Boonchuys to tell their parents that they're okay, to which they agree as it would be easier to explain to them what happened because the battle was broadcast live. Anne activates the music box and the castle crosses dimensions.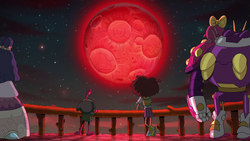 Meanwhile back in Amphibia, the Wartwood Resistance is fighting off what remains of the Frobot army. Just then, they see the castle returning to Amphibia as Olivia announces their victory and everyone cheers. Sasha mentions on how they didn't require the use of the prophecy, prompting Marcy to frantically ask what she's talking about. Sprig asks Anne if things will change between them just like her and her friends. Anne admits she is uncertain but no matter what happens, she reassures Sprig they will face it together. Sprig smiles at this. Just as it seems like everything is going to be okay, Sprig points out that Amphibia's moon is moving closer, leaving a shocked Anne to question the current situation.
Cast
Additional voices
Corey Burton

as Male US Military General, News Anchor
Troy Baker as Frobots, Bystander
Non-speaking cameo
Emily
Tyler
Tyler's Boyfriend
Barrel (flashback)
Mentioned
Mr. and Mrs. Waybright
Mr. and Mrs. Wu
Other characters
Transcript
For a full transcript of "All In", click here.
Gallery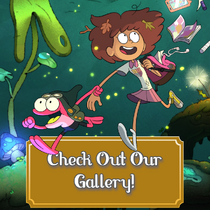 Click here to view the gallery.
Trivia
Viewership: This episode was watched by 0.35 viewers on its premiere.[6]
This is the penultimate episode of the series.
This episode is 48 minutes long (exactly double the running time of "Toad Tax"/"Prison Break" and "True Colors"),[7][8] making it the longest episode of the whole show, taking up two half-hours in running time.
This, "True Colors" and "Froggy Little Christmas" are the only full-length episodes to immediately precede another full-length episode.
This episode and the following episode are the only episodes to completely cut the opening sequence and title card, instead displaying the series logo, title card and episode credits over the introductory flashback.

Given that the previous two season finales both used the short opening sequence and that the previous episode, "The Three Armies"/"The Beginning of the End," was the last episode to use said opening sequence, this could imply that the series finale is split into four parts, this being the third. Matt Braly hinted at this on Twitter.[9]

This is the only appearance of the United States Military.
This is the only episode to depict Saint James Middle School outside of flashbacks.
This is the last of two episodes to use a licensed song (in this case, the Blackpink song "As If It's Your Last"), following "Reunion".
This is the first Season 3 episode to feature the Anne's Theme leitmotif in an alternate credits sequence and the only alternate Season 3 credits sequence to only use this leitmotif.

This is also the only credits sequence that uses the Anne's Theme leitmotif to credit Haley Tju as Darcy.

This is the last of three episodes (following "Little Frogtown"/"Hopping Mall" and "Spider-Sprig"/"Olivia & Yunan") to feature an end credits sequence without any characters.
This is also the second episode to be rated TV-Y7-FV (the first one being "True Colors"), but unlike "True Colors," there was no content warning even though Grime's arm was cut off and Sasha got a massive wound on her back.

However, on On Demand on certain cable providers, the said rate is not present.
Revelations and significant events
Anne's parents received training from the US military and successfully convinced them to prepare for the invasion, which explains why the tanks manage to arrive in LA so early.
Saint James Middle School is a private school, according to Mr. X.
Grime can't handle spicy food made by Anne's parents.
Polly created new body for Frobo.
The Plantars tame the two herons that killed Mr. and Ms. Plantar.
Inside the Core's mind space, Marcy comes to realize that it is far from right for her to force Sasha and Anne into sharing her interests all the time.
Darcy amputates Grime's left arm, while Sasha suffers a severe slice wound to her back from Darcy.
Leif is revealed to be a Plantar and the town founder of Wartwood. In addition, Leif changed her name to Lily upon returning to Amphibia.

The signature Plantar logo, the letter P, is revealed to be Leif's first letter upside down.

Andrias is defeated in battle by Anne, then proceeds to be brought back to Newtopia Castle.
Andrias is revealed to be part machine with his cybernetic implants, as he used technology to prolong his life since Leif's "betrayal."

Like Grime, Andrias loses his left arm, but also part of his left leg.

Sasha severs the Core's connection to Marcy, thereby freeing her from its control. However, the Core survives in Darcy's helmet.
As Leif envisioned, Amphibia's moon starts to fall towards Amphibia.
Continuity
Production notes
Allusions
Errors
When the Plantars command the herons to sit, the herons' eye colors are switched.
As Anne, Sasha and Marcy reunite, Anne's shoe is on her right foot.
Memorable quotes
Videos
References